We all know that social media has become an integral part of our daily lives and it will definitely have a presence on your new site as well. Here are a few of the reasons you will want to make sure your social media sites are linked and active for your visitors to view!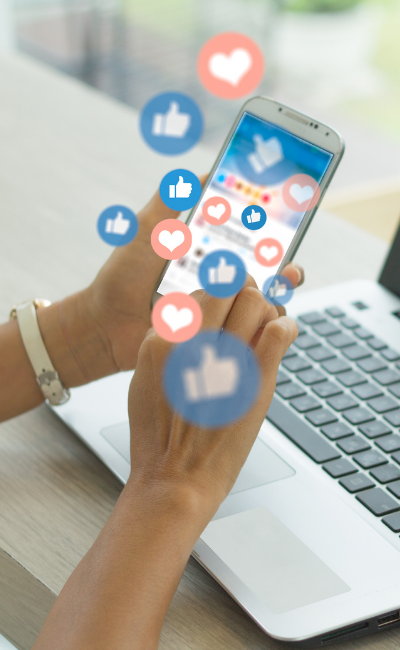 Deeper Look Into Your Brand's Personality
Your website is a place potential fans and clients can explore to know more about you and your business. A well-designed site can give small peeks into you and your brand, but websites alone can't showcase your entire personality.
Your social media pages allow you more freedom to let you and your brand shine. The way you interact with clients, the posts you publish, and the links you repost show your identity much more clearly than your website is able to.
Increase Brand Awareness
Brand awareness is a goal that all businesses have. Research shows that there is a positive correlation between brand awareness and social media presence.
As you use social media to showcase your personality, products, and services, people will begin to recognize them more easily, boosting overall brand awareness.
While visitors get to know your business and what you have to offer when they come to your site, social media links from your site can lead them to pages that will keep your brand on the top of their minds.
More Interaction
Visitors to your website have a small number of options for connecting with you – e.g., send a message via the contact page, send an email, or call the phone number if listed. Social media pages allow your customers to engage much more easily. Clicking the 'like' button for example, can give you a sense of your customer's opinions about your offerings or content. Potential clients can also send a direct message and more easily get the answers they need.
Key Takeaways
Having a social media presence is important and having them linked to your site s a great way to grow your audience of potential fans and followers!
Your instinct may be to add every site that you are a part of – but hold off on that! It is not necessary to link to any sites that share content you want kept private, or your outdated LinkedIn site that hasn't been updated since 2019. Links to sites directly related to your offering that you keep up to date with current posts and info are what you want to share!
Make it fun! I am not a social media manager, but I do know anything that feels like a chore just isn't happening in my world. Pick platforms that you care about and that you will want to keep up with and make sure the cadence that you choose to post your updates makes sense for you and your life and work style!
Where are we going to find you on social media?
---
Fill in the form below and let's get your links added!