Today is the day we will gather the details we need to set up your online store! This is a jam packed lesson so grab a fresh cup of coffee and let's get going.
As you are going through today's lesson, you don't need to take any action! Everything you need to do will be taken care of during the quiz.
Below is a list of all the information that we will ask for to set up your store so you can get yourself organized and ready to send everything over!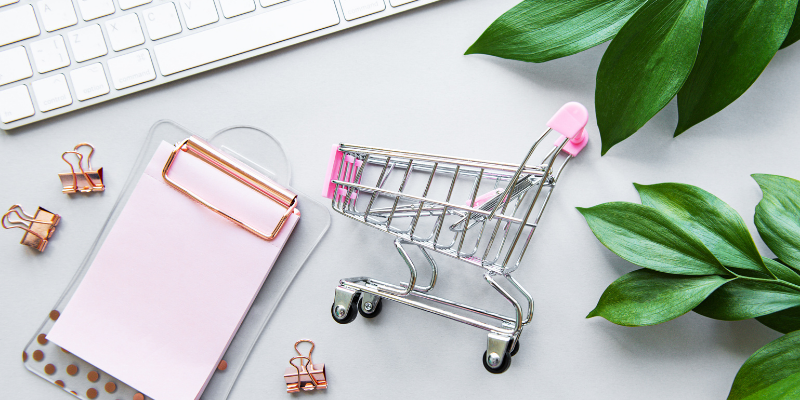 Store Details
Your store's address. Even if you are selling online exclusively, you are required to add an address to use for shipping, returns, etc.
What type of products will be listed? The options here include Physical Products, Downloads, or Subscriptions.
How many products do you plan to display? This can be a rough estimate.
Products
For each of the products you plan to sell, you will need the following info:
Product Name
Product Description – you can include a long description with more details and a shorter one which will display at the top of the listing
Price
Inventory – if you plan to track, please include the total number of items you have on hand
Product Variations – if you offer multiple sizes or colors for the product, please have those details ready with prices and inventory counts (if those differ)
Pictures – you will want to have a nice photograph (multiple if possible) of the item(s) you are planning to sell
Please complete the sheet linked here with all of your product information and have it ready to upload in today's quiz!
Payments
To receive payments on your site, you have to sign up for a payment processor. We recommend using WooCommerce Payments as it fully integrates with your online store setup and allows you to accept all major credit and debit cards and multiple currencies.
Setting up WooCommerce Payments is free and there is no monthly payment or set up fee. There is a charge per transaction which varies based on the country where the card was issued. In the United States the fee is 2.9% + $0.30 USD per credit/debit card transaction, so using a $100 purchase as an example, you would have $3.20 withheld as the processing fee from your proceeds. You can view more details about the fees for each country linked here.
You will be asked to set up an account with Stripe and then share the username and password with us so you can complete the setup. Stripe partners with WooCommerce to process the payments.
Taxes
Depending on the state where your business operates, you will need to collect and remit sales tax for each purchase made on your site. We are not tax professionals and recommend that you work directly with your CPA to determine the best setup, and answer any questions you have.
We recommend having your site automate your sales tax calculations by signing up for a free Jetpack account which integrates with WooCommerce. Please visit WordPress.com to sign up and we will ask you for your username and password to complete the setup. When you are prompted to connect to a site, please click the 'back to my sites' button as you will not need to do this step. Please make sure you click on the email you receive to activate your account.
Shipping
To keep things simple to administer, we recommend offering flat rate shipping and/or free shipping for your customers. You can offer free shipping for all purchases or free after they surpass a specific dollar amount. You will also need to consider whether you will offer shipping only to the United States or if you will ship around the world.
We will set up your site with WooCommerce Shipping that will allow you to create and print shipping labels straight from the dashboard of your new site.
Returns & Refund Policy
We will need to create a page describing your policy and how a customer can request a return or refund. Here are the items you should consider including:
How many days does a customer have to initiate a return?
What methods must a customer use to initiate a return?

Is there a specific return address?

What condition must returned items be?

Must packages be unopened, or can items be returned provided they are in original packaging?
Must clothing be unworn? What if tags are no longer attached?

Is a receipt required to return an item? What about an exchange?
Are some items restricted from being returned?

For example, a clothing retailer might restrict undergarments or sale items from being returned.

How are refunds provided?

Is cash offered in exchange for a returned item, or must the customer use store credit?

Is the customer responsible for return shipping costs, or will your store pay for return shipping charges?
When shipping returns, will you provide the customer with prepaid shipping labels, or is the customer responsible to arrange?
Are any restocking fees or other charges subtracted from refunded amounts?
Can you hear the cha-ching of your first sale?!
There are THREE important next steps:
Create a copy or download and complete the file here with all of the information about your products and then email to henderson@madisonreidcreative.com.
Send all photos of your products (labeled with their names) to henderson@madisonreidcreative.com.
Fill out the form below with the additional details!